#PYAARMESSYHAI
This Valentine's Day we are celebrating love that's not found in perfection but in being imperfect together. Love that's goofy, silly, clumsy, but special to you. Love that completes you. While you celebrate your little stories of joy with each other, The Messy Corner is here to make it all the more special with our valentine's collection with personalised products, curated hampers, handwritten notes and Valentine special gift boxes.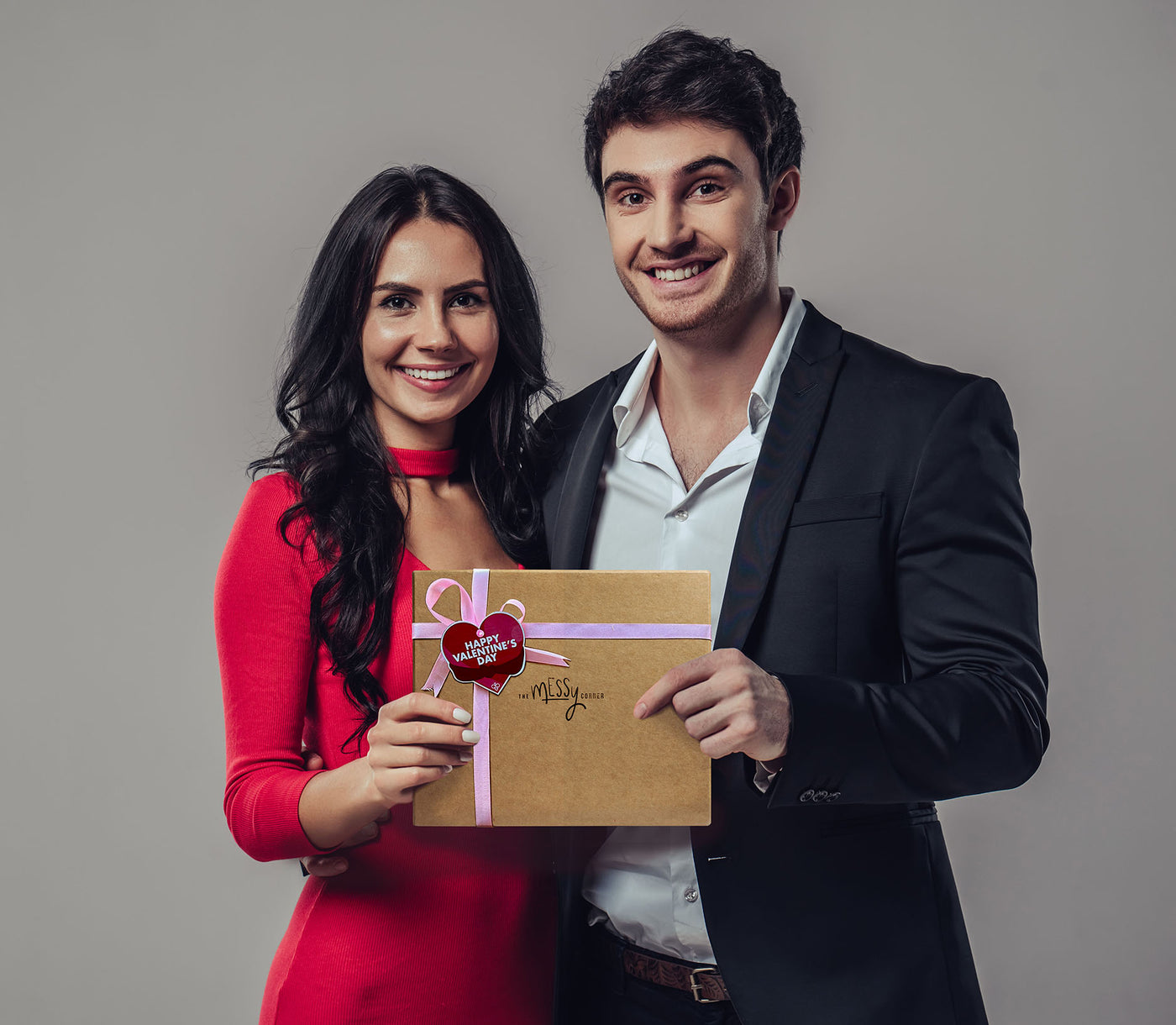 THE GIFT OF LOVE
Valentine's Day is just round the corner and we are here to help you make it extra special.
SPECIALLY CURATED HAMPERS
Gift something special to your special one this Valentine's Day, and make it a memorable one.
We care for you as much as you care for your significant other so you need not worry about the gifting part. Focus on making this day the best they have had because we have curated personalised gift hampers for him and for her. We assure you that these valentines' Day gifts are the ultimate best they have had. Whether you are looking for gifts for your girlfriend or your boyfriend, your husband or your wife, you have come to the right place because we have a wide range of personalised gifts for all. Specially handpicked for the love of your life, these gift hampers will leave your partner wanting for more and definitely make them all smitten.
Our 'All That He Needs' is a personalised hamper that contains top selected, customized valentine's gifts for him. Dear ladies, gone are the times of spending hours on choosing that special gift for your boyfriend or your husband because trust us, this hamper has got it all.
If you love traveling the globe with your partner, then we have got something more exciting in store for you. Our Personalised Couple Passport Covers are here to celebrate your bond as a couple and your shared love for traveling.
We have put together a Valentine's Special Personalised Gift Hamper that has Passport covers, Keychains and a Heart Keyring for both of you love birds. Just Like all of our other Gifts, you can get these gift articles, personalised to suit your needs and those of your partner's. A valuable and exceptional gift hamper for both this season of love, what a great deal right?

Get your hands on these Personalised hampers right now and celebrate the season of love like never before.